The research centre is one of the most ambitious projects undertaken by the 'Mangalayatan' trust. Basic objectives of the research centre is the search of ancient and rare manuscripts, scriptures and other religious literature; and their restoration, preservation and reproduction in different forms such as books, cassettes, websites and compact disks (CD-ROMs). Interactions and cooperations with other organisations, societies and individuals with similar interests to pave way for a faster and coordinated action to save our religious and spiritual heritage. The trust also wants to explore the possibility of conducting exchange programs with libraries and museums abroad where priceless Indian religious manuscripts are lying neglected. Under such programs, arrangement could be made to get back those transcripts or their copies in exchange for similar kind of material that the centre has. Proposals of purchasing such rare materials can also be considered by the research centre.
The trust has already built an impressive collection of such material and has contacted various religious scholars to play an active part in the activities of the research centre. Discussions are undergoing for developing close cooperation with people who are dedicated to the work of finding and preserving old religious scriptures. The centre is going to be a hub of research activities where renowned Jain and non-jain scholars will study, discuss and interpret the contents of ancient Jain scriptures.

The trust is also planning to get the research centre affiliated with some universities and award fellowships to scholars and researchers. Researchers from abroad will also be encouraged to come and undertake higher studies in Jainism. Scholars and researchers, working at 'Mangalayatan' might send or undertake to study and research projects abroad. Research centre would be equipped with the latest kind of communication facilities including Internet. The trust proposes to host several websites, including the one you are surfing now, to spread the message of Jinwani throughout the world.

A library attached with the research centre, preserves a wealth of information on various aspects of Jainism in different forms including books, rare handwritten manuscripts, tadapatras, audio and video cassettes, CDs, pictures, paintings and souvenirs etc.

To conduct and manage activities in this field, a committee headed by Sh. Nikhil Chhaganlal Mehta, Mumbai, has been constituted. Smt. Shaila P Vora, Mumbai, is also a member of this committee.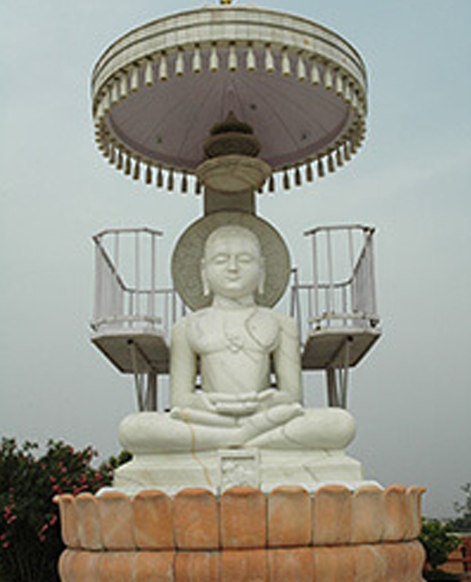 Research Work
Teerthdham Mangalayatan is doing a marvelous work, to prevent and preserve old manuscripts written in paper and tad patras. These manuscripts will be preserved after scanning, in CDs & micro-films. Mangalayatan will also put initiative to publish the unpublished manuscripts.

Appeal for your co-operation
In case of any published or unpublished manuscripts written in paper or tad patra is available with you, kindly inform / send to Teerthdham Mangalayatan so that it may be preserved in CDs / Micro-films. If the owner desires, the manuscript will be returned with a CD of it otherwise, it may be preserved in our well-equipped library for research purpose by our scholars.